#TomorrowIsSunday | What prophecies were fulfilled in Jesus?
Fr. Paweł Rytel-Andrianik / 01.04.2023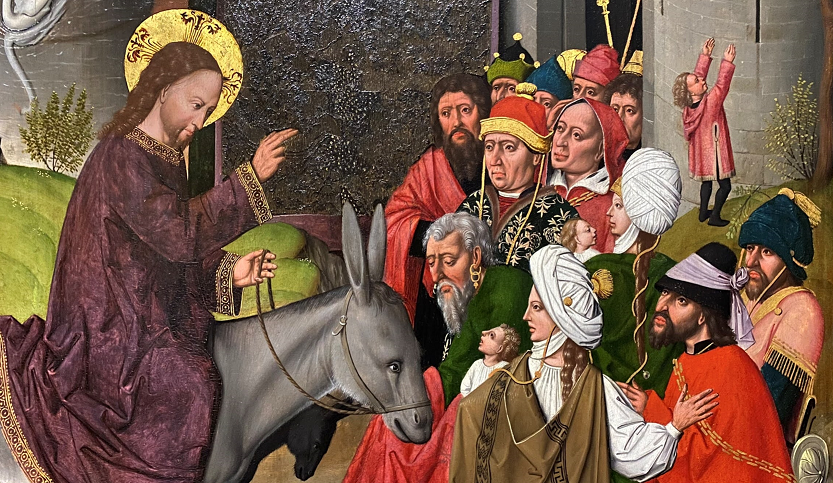 JesusenteringJerusalem, medievalaltar, PhotoCredit: Sr. AmataJ. NowaszewskaCSFN
Palm Sunday of the Lord's Passion; Year A
April 2, 2023
Gospel: Mt 21, 1-11; 26, 14–27, 66 >>>
You can download the commentary on the Gospel and beautiful photos >>>
1. A word of introduction
"In order that the Scripture might be fulfilled," – this expression is the key to understanding the oneness of the Old and New Testaments. What was foretold in the Old Testament was fulfilled in the person of Jesus Christ. Today's Gospel gives many examples of this.
2. Keywords
"Amen, I say to you, one of you will betray me."  (…) "He who has dipped his hand into the dish with me is the one who will betray me. (Mt 26: 21-23)
Thus, were fulfilled the words of Psalm 41:10 – "Even my trusted friend, who ate my bread, has raised his heel against me".
Then Pilate said to him, "Do you not hear how many things they are testifying against you?" But he did not answer him one word, so that the governor was greatly amazed. (Mt 27: 13-14)
So-called the fourth Song of the Servant of Yahweh, in the book of the prophet Isaiah 53: 7, foreshadows this: "Though harshly treated, he submitted and did not open his mouth; Like a lamb led to slaughter or a sheep silent before shearers, he did not open his mouth".
Then they spat in his face and struck him, while some slapped him. (Mt 26:67-68)
In the first reading from Isaiah 50:6, we read very similar words: "I gave my back to those who beat me, my cheeks to those who tore out my beard; My face I did not hide from insults and spitting".
Immediately one of them ran to get a sponge; he soaked it in wine, and putting it on a reed, gave it to him to drink. (Mt 27:48) 
Even such minor details were already foretold to be fulfilled in regard to the Messiah. We read of this in Psalm 69:22: "They gave me poison for my food; and for my thirst they gave me vinegar".
After they had crucified him, they divided his garments* by casting lots. (Mt 27:35)
The Roman soldiers who cast lots for Jesus' clothes did not know that in this way they were fulfilling the prophecy of Psalm 22:19: "They divide my garments among them; for my clothing they cast lots".
There are many other passages in the Old Testament that reinforce our faith and trust in Jesus.
3. Today
All these prophecies confirm that Jesus is the announced Messiah. However, He asks each of us, just as He asked Peter: and who do you think I am? Who am I to you?
#TomorrowIsSunday | Lazarus of Bethany – Jesus' friend and bishop >>>
#TomorrowIsSunday | What are miracles for? >>>
#TomorrowIsSunday | Why should Jesus not talk to the Samaritan woman? >>>
#TomorrowIsSunday | Why were Moses and Elijah with Jesus on the Mount of Transfiguration? >>>
#TomorrowIsSunday | How did Jesus respond to temptations? >>>
#TomorrowIsSunday | What instead of the principle of "an eye for an eye, a tooth for a tooth"? >>>
#TomorrowIsSunday | What should our justice be like according to Jesus? >>>
#TomorrowIsSunday | Eight tips to be happy >>>
#TomorrowIsSunday | How did Jesus differ from John the Baptist in his approach to the people? >>>
#TomorrowIsSunday | Why does John call Jesus a Lamb? >>>
#TomorrowIsSunday | Similarities and differences between the attitudes of Mary and the shepherds >>>
#TomorrowIsSunday | What does the name Jesus mean? >>>
#TomorrowIsSunday | What is the most important task of John the Baptist? >>>
#TomorrowIsSunday | Two different meanings of the word "repent" >>>
#TomorrowIsSunday | Two paradoxes of Advent >>>
#TomorrowIsSunday (EN) | What kind of king is Jesus? >>>
#TomorrowIsSunday (EN) | What is there today where the Jerusalem Temple was? >>>
#TomorrowIsSunday (EN+ES) | What did Jesus say about resurrection? >>>
#TomorrowIsSunday (EN+ES) | Why does God like haste? >>>
#TomorrowIsSunday (EN+ES) | Why was the sinner justified and the Law-keeper not? >>>
#TomorrowIsSunday (EN+ES) | Prayer like a black eye >>>
#TomorrowIsSunday (EN+ES) | Why is gratefulness important in life? >>>
#TomorrowIsSunday (EN+ES) | What does a mustard seed tell us about faith? >>>
#TomorrowIsSunday (EN+ES) | How can being rich help you to be saved? >>>
#TomorrowIsSunday (EN+ES) | What did Jesus say about money? >>>
#TomorrowIsSunday (EN+ES) | What is the personalism of Jesus? >>>
#TomorrowIsSunday (EN+ES) | What does Jesus mean when He talks about "hating one's family and even one's own life"? >>>
#TomorrowIsSunday (EN+ES) | Is humility a weakness? >>>
#TomorrowIsSunday (EN+ES) | Who will be saved? >>>
#TomorrowIsSunday (EN+ES) | Why does Jesus bring division? >>>
#TomorrowIsSunday (EN+ES) | Does God wait on us? >>>
#TomorrowIsSunday (EN+ES) | Money is a good servant, but a bad master >>>
#TomorrowIsSunday (EN+ES) A third of the Lord's Prayer is about forgiveness >>>
#TomorrowIsSunday (EN+ES) | What do we learn from the example of Martha and Mary during our vacation time? >>>
#TomorrowIsSunday (EN+ES) | Our neighbour – a stranger, someone we do not know? >>>
#TomorrowIsSunday (EN+ES) | Jesus' manual for preachers of the Gospel >>>
#TomorrowIsSunday (EN+ES) | Why did Jesus live as if he were homeless? >>>
TomorrowIsSunday (EN+ES) | Corpus Christi. What is the miracle? >>>
#TomorrowIsSunday (EN+ES) | What does the Trinity teach us? >>>
#TomorrowIsSunday (EN+ES) | What does Jesus call the Holy Spirit? >>>
#TomorrowIsSunday (EN+ES) | How does Jesus continue to help us after the Ascension? >>>
#TomorrowIsSunday (EN+ES) | How can God dwell in us? >>>
#TomorrowIsSunday (EN+ES) | What kind of love is best? >>>
#TomorrowIsSunday (EN + ES) | How to hear Jesus? >>>
#TomorrowIsSunday (EN+ES) | What rebuilds a relationship with Jesus? >>>
#TomorrowIsSunday (EN+ES) | Why is this Sunday Compared to a "Second Baptism"? >>>
#TomorrowIsSunday (EN+ES) | Jesus' greatest miracle >>>
TomorrowIsSunday (EN+ES) | What Is Unique About the Description of Jesus' Passion in the Gospel of Luke? >>>
#TomorrowIsSunday | What does Jesus write in the sand? >>>
#TomorrowIsSunday (EN+ES) | What is the scandal of mercy? >>>
#TomorrowIsSunday (EN+ES) | Why Does Jesus Pray? >>>
#TomorrowIsSunday (EN+ES) | What Should One Do when Tempted? >>>
#TomorrowIsSunday (EN+ES) | What Do a Hypocrite and a Mask Have in Common? >>>
#TomorrowIsSunday (EN+ES) | Why should we love our enemies? >>>
#TomorrowIsSunday (EN+ES) | Jesus' Counsel Regarding Hatred Prompted by Faith >>>
#TomorrowIsSunday (En+ES) | In the Bible, what does it mean to be "fisher of men"? >>>
#TomorrowIsSunday (EN+ES) | Why is Nazareth a Tragic City? >>>
#TomorrowIsSunday (EN+ES) | Who is Theophilus for whom Luke wrote the Gospel? >>>