#TomorrowIsSunday | Why should Jesus not talk to the Samaritan woman?
AH / 11.03.2023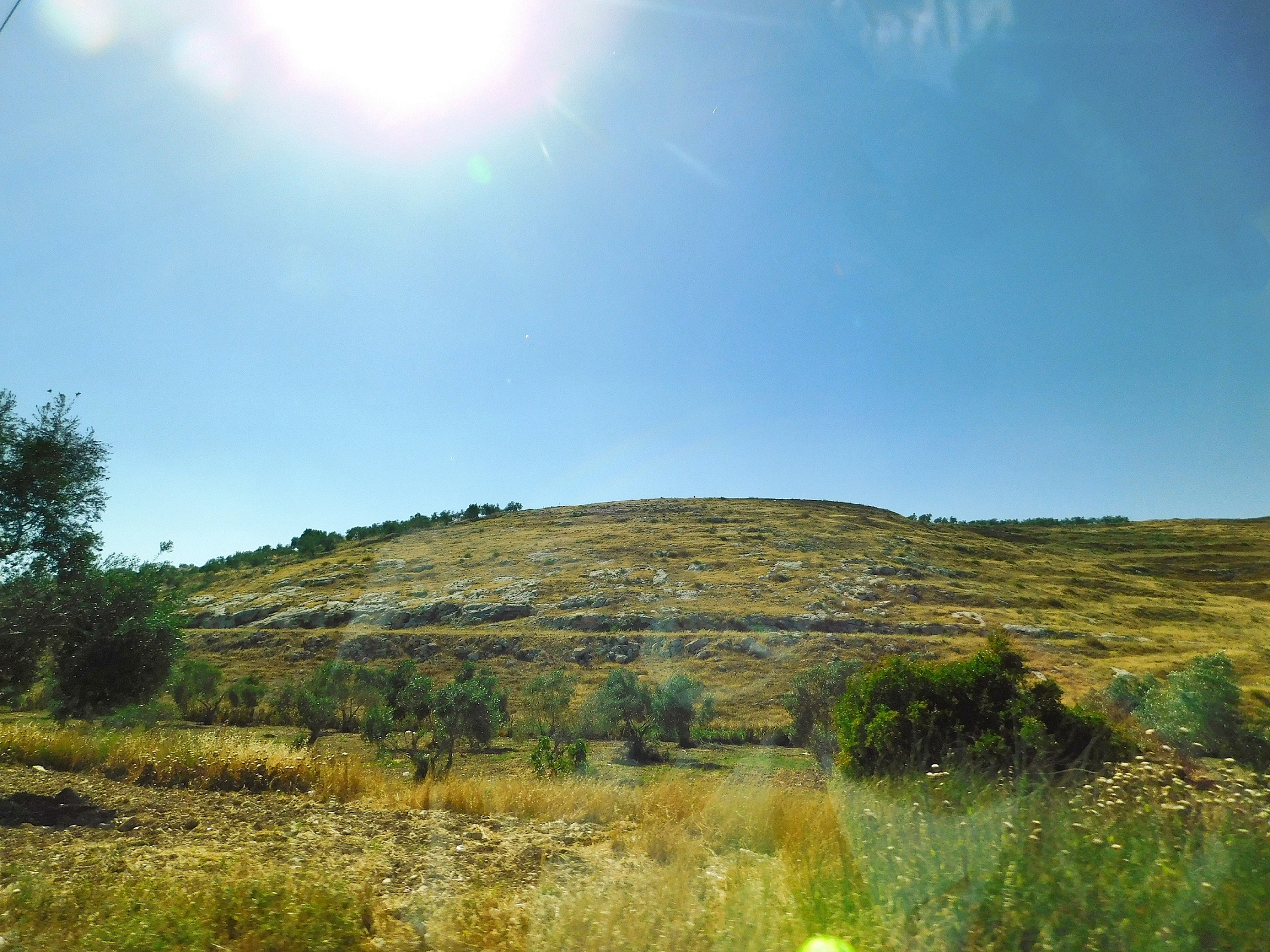 Jesus passed through Samaria, photo by Sister Amata J. Nowaszewska CSFN
3rd Sunday of Lent; Year A
March 12, 2023
You can download the commentary on the Gospel and beautiful photos >>>
1. A word of introduction
Jesus crosses boundaries to meet another person. Even in ambiguous situations, he has the courage to go beyond. He does so out of love. The meeting with the Samaritan woman is just one example of this.
2. Keywords
Jesus, tired from his journey, sat down there at the well.
It was about noon.
A woman of Samaria came to draw water.
Jesus said to her, "Give me a drink." […]
The Samaritan woman said to him,
"How can you, a Jew, ask me, a Samaritan woman, for a drink?"
Why should Jesus not talk to a Samaritan woman? First, in Jewish tradition, a man should not meet alone with a woman who is not his wife, especially in an isolated place. Second, the relationship between Jews and Samaritans, as commented on in the Gospel, was very unfriendly. Third, the Samaritan woman avoided other people, which is why she came to the spring at six o'clock, which was noon. No one would come to the well at the hottest time of the day. The Samaritan woman was ashamed of her disordered life situation.
Jesus wanted to meet her. He came to the spring at noon to meet a person who was marginalized by her community and isolated herself. For Jesus, every person matters.
The woman left her water jar
and went into the town and said to the people,
"Come see a man who told me everything I have done.
Could he possibly be the Christ?"
They went out of the town and came to him.
An encounter with Jesus changed everything in the life of a Samaritan woman. Jesus transformed her. She was no longer ashamed of herself but bore witness to Jesus. He touched on the difficult issues in her life, not to oppress her. Jesus' touching of our wounds brings salvation and healing. The Samaritan woman left the jug and ran to tell others about Jesus joyfully.
3. Today
Jesus goes beyond his environment to seek out a person. He is not hindered by social prejudices and human judgments, nor by the disordered life of the Samaritan woman. And how do I talk to people outside my circle? Do I have the courage to bring the good news of the Gospel even to people who are unfriendly to me?
#TomorrowIsSunday | Why were Moses and Elijah with Jesus on the Mount of Transfiguration? >>>
#TomorrowIsSunday | How did Jesus respond to temptations? >>>
#TomorrowIsSunday | What instead of the principle of "an eye for an eye, a tooth for a tooth"? >>>
#TomorrowIsSunday | What should our justice be like according to Jesus? >>>
#TomorrowIsSunday | Eight tips to be happy >>>
#TomorrowIsSunday | How did Jesus differ from John the Baptist in his approach to the people? >>>
#TomorrowIsSunday | Why does John call Jesus a Lamb? >>>
#TomorrowIsSunday | Similarities and differences between the attitudes of Mary and the shepherds >>>
#TomorrowIsSunday | What does the name Jesus mean? >>>
#TomorrowIsSunday | What is the most important task of John the Baptist? >>>
#TomorrowIsSunday | Two different meanings of the word "repent" >>>
#TomorrowIsSunday | Two paradoxes of Advent >>>
#TomorrowIsSunday (EN) | What kind of king is Jesus? >>>
#TomorrowIsSunday (EN) | What is there today where the Jerusalem Temple was? >>>
#TomorrowIsSunday (EN+ES) | What did Jesus say about resurrection? >>>
#TomorrowIsSunday (EN+ES) | Why does God like haste? >>>
#TomorrowIsSunday (EN+ES) | Why was the sinner justified and the Law-keeper not? >>>
#TomorrowIsSunday (EN+ES) | Prayer like a black eye >>>
#TomorrowIsSunday (EN+ES) | Why is gratefulness important in life? >>>
#TomorrowIsSunday (EN+ES) | What does a mustard seed tell us about faith? >>>
#TomorrowIsSunday (EN+ES) | How can being rich help you to be saved? >>>
#TomorrowIsSunday (EN+ES) | What did Jesus say about money? >>>
#TomorrowIsSunday (EN+ES) | What is the personalism of Jesus? >>>
#TomorrowIsSunday (EN+ES) | What does Jesus mean when He talks about "hating one's family and even one's own life"? >>>
#TomorrowIsSunday (EN+ES) | Is humility a weakness? >>>
#TomorrowIsSunday (EN+ES) | Who will be saved? >>>
#TomorrowIsSunday (EN+ES) | Why does Jesus bring division? >>>
#TomorrowIsSunday (EN+ES) | Does God wait on us? >>>
#TomorrowIsSunday (EN+ES) | Money is a good servant, but a bad master >>>
#TomorrowIsSunday (EN+ES) A third of the Lord's Prayer is about forgiveness >>>
#TomorrowIsSunday (EN+ES) | What do we learn from the example of Martha and Mary during our vacation time? >>>
#TomorrowIsSunday (EN+ES) | Our neighbour – a stranger, someone we do not know? >>>
#TomorrowIsSunday (EN+ES) | Jesus' manual for preachers of the Gospel >>>
#TomorrowIsSunday (EN+ES) | Why did Jesus live as if he were homeless? >>>
TomorrowIsSunday (EN+ES) | Corpus Christi. What is the miracle? >>>
#TomorrowIsSunday (EN+ES) | What does the Trinity teach us? >>>
#TomorrowIsSunday (EN+ES) | What does Jesus call the Holy Spirit? >>>
#TomorrowIsSunday (EN+ES) | How does Jesus continue to help us after the Ascension? >>>
#TomorrowIsSunday (EN+ES) | How can God dwell in us? >>>
#TomorrowIsSunday (EN+ES) | What kind of love is best? >>>
#TomorrowIsSunday (EN + ES) | How to hear Jesus? >>>
#TomorrowIsSunday (EN+ES) | What rebuilds a relationship with Jesus? >>>
#TomorrowIsSunday (EN+ES) | Why is this Sunday Compared to a "Second Baptism"? >>>
#TomorrowIsSunday (EN+ES) | Jesus' greatest miracle >>>
TomorrowIsSunday (EN+ES) | What Is Unique About the Description of Jesus' Passion in the Gospel of Luke? >>>
#TomorrowIsSunday | What does Jesus write in the sand? >>>
#TomorrowIsSunday (EN+ES) | What is the scandal of mercy? >>>
#TomorrowIsSunday (EN+ES) | Why Does Jesus Pray? >>>
#TomorrowIsSunday (EN+ES) | What Should One Do when Tempted? >>>
#TomorrowIsSunday (EN+ES) | What Do a Hypocrite and a Mask Have in Common? >>>
#TomorrowIsSunday (EN+ES) | Why should we love our enemies? >>>
#TomorrowIsSunday (EN+ES) | Jesus' Counsel Regarding Hatred Prompted by Faith >>>
#TomorrowIsSunday (En+ES) | In the Bible, what does it mean to be "fisher of men"? >>>
#TomorrowIsSunday (EN+ES) | Why is Nazareth a Tragic City? >>>
#TomorrowIsSunday (EN+ES) | Who is Theophilus for whom Luke wrote the Gospel? >>>