#TomorrowIsSunday | Two different meanings of the word "repent"
Fr. Paweł Rytel-Andrianik / 03.12.2022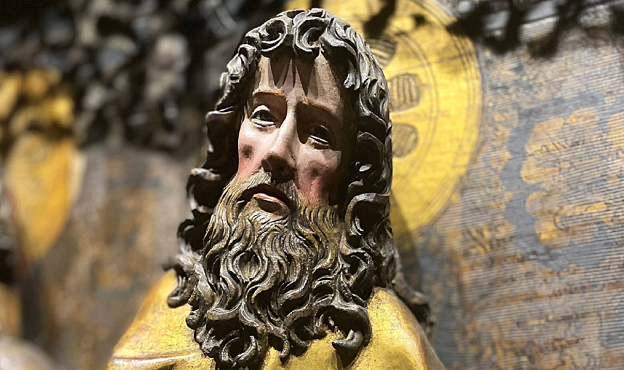 John the Baptist - medieval altar_PhotoCredit Sr Amata CSFN.
Second Sunday of Advent, Year A
December 4th, 2022
You can download the commentary on the Gospel and beautiful photos >>>
1. A word of introduction
When we say the word "conversion," it has a defined meaning in a given language. The greatest richness of its significance is found in the Bible because the word contains both Hebrew and Greek meanings.
2. Key words
John the Baptist appeared, preaching in the desert of Judea
and saying, "Repent, for the kingdom of heaven is at hand!".
St. John the Baptist preached to the Jews. Most likely, when talking about repentance, he used the word "shuv" known from the Hebrew Bible. It has a very practical meaning and is very figurative. The Hebrew word "shuv" simply means to turn back from the wrong path, which leads astray or into dangerous territory where one can lose one's life. In addition, it means to turn back towards God, who is the source of happiness.
In the Gospel, the speech of St. John the Baptist is recorded in Greek. In turn, in this language, "metanoeite" is used to describe the word "repent". This word literally means "change your thinking".
Importantly, the heart in the Bible does not refer to emotions so much, but precisely to the way of thinking. It is in the heart where a person makes choices and decisions.  Therefore, a change of thinking, means a change in the heart of a person.
We can see, then, that the two meanings of the word "repent" are not opposite, but complementary.
3. Today
When saying repent, the Gospel speaks at the same time of two principles: turn back and turn to God, and change your thinking (heart). From which path should I turn back to God? On which matter should I change my thinking?
#TomorrowIsSunday | Two paradoxes of Advent >>>
#TomorrowIsSunday (EN) | What kind of king is Jesus? >>>
#TomorrowIsSunday (EN) | What is there today where the Jerusalem Temple was? >>>
#TomorrowIsSunday (EN+ES) | What did Jesus say about resurrection? >>>
#TomorrowIsSunday (EN+ES) | Why does God like haste? >>>
#TomorrowIsSunday (EN+ES) | Why was the sinner justified and the Law-keeper not? >>>
#TomorrowIsSunday (EN+ES) | Prayer like a black eye >>>
#TomorrowIsSunday (EN+ES) | Why is gratefulness important in life? >>>
#TomorrowIsSunday (EN+ES) | What does a mustard seed tell us about faith? >>>
#TomorrowIsSunday (EN+ES) | How can being rich help you to be saved? >>>
#TomorrowIsSunday (EN+ES) | What did Jesus say about money? >>>
#TomorrowIsSunday (EN+ES) | What is the personalism of Jesus? >>>
#TomorrowIsSunday (EN+ES) | What does Jesus mean when He talks about "hating one's family and even one's own life"? >>>
#TomorrowIsSunday (EN+ES) | Is humility a weakness? >>>
#TomorrowIsSunday (EN+ES) | Who will be saved? >>>
#TomorrowIsSunday (EN+ES) | Why does Jesus bring division? >>>
#TomorrowIsSunday (EN+ES) | Does God wait on us? >>>
#TomorrowIsSunday (EN+ES) | Money is a good servant, but a bad master >>>
#TomorrowIsSunday (EN+ES) A third of the Lord's Prayer is about forgiveness >>>
#TomorrowIsSunday (EN+ES) | What do we learn from the example of Martha and Mary during our vacation time? >>>
#TomorrowIsSunday (EN+ES) | Our neighbour – a stranger, someone we do not know? >>>
#TomorrowIsSunday (EN+ES) | Jesus' manual for preachers of the Gospel >>>
#TomorrowIsSunday (EN+ES) | Why did Jesus live as if he were homeless? >>>
TomorrowIsSunday (EN+ES) | Corpus Christi. What is the miracle? >>>
#TomorrowIsSunday (EN+ES) | What does the Trinity teach us? >>>
#TomorrowIsSunday (EN+ES) | What does Jesus call the Holy Spirit? >>>
#TomorrowIsSunday (EN+ES) | How does Jesus continue to help us after the Ascension? >>>
#TomorrowIsSunday (EN+ES) | How can God dwell in us? >>>
#TomorrowIsSunday (EN+ES) | What kind of love is best? >>>
#TomorrowIsSunday (EN + ES) | How to hear Jesus? >>>
#TomorrowIsSunday (EN+ES) | What rebuilds a relationship with Jesus? >>>
#TomorrowIsSunday (EN+ES) | Why is this Sunday Compared to a "Second Baptism"? >>>
#TomorrowIsSunday (EN+ES) | Jesus' greatest miracle >>>
TomorrowIsSunday (EN+ES) | What Is Unique About the Description of Jesus' Passion in the Gospel of Luke? >>>
#TomorrowIsSunday | What does Jesus write in the sand? >>>
#TomorrowIsSunday (EN+ES) | What is the scandal of mercy? >>>
#TomorrowIsSunday (EN+ES) | Why Does Jesus Pray? >>>
#TomorrowIsSunday (EN+ES) | What Should One Do when Tempted? >>>
#TomorrowIsSunday (EN+ES) | What Do a Hypocrite and a Mask Have in Common? >>>
#TomorrowIsSunday (EN+ES) | Why should we love our enemies? >>>
#TomorrowIsSunday (EN+ES) | Jesus' Counsel Regarding Hatred Prompted by Faith >>>
#TomorrowIsSunday (En+ES) | In the Bible, what does it mean to be "fisher of men"? >>>
#TomorrowIsSunday (EN+ES) | Why is Nazareth a Tragic City? >>>
#TomorrowIsSunday (EN+ES) | Who is Theophilus for whom Luke wrote the Gospel? >>>