Poland: Celebration of the 20th Anniversary of John Paul II's Entrustment of the World to The Divine Mercy (EN+IT)
FNS / 17.08.2022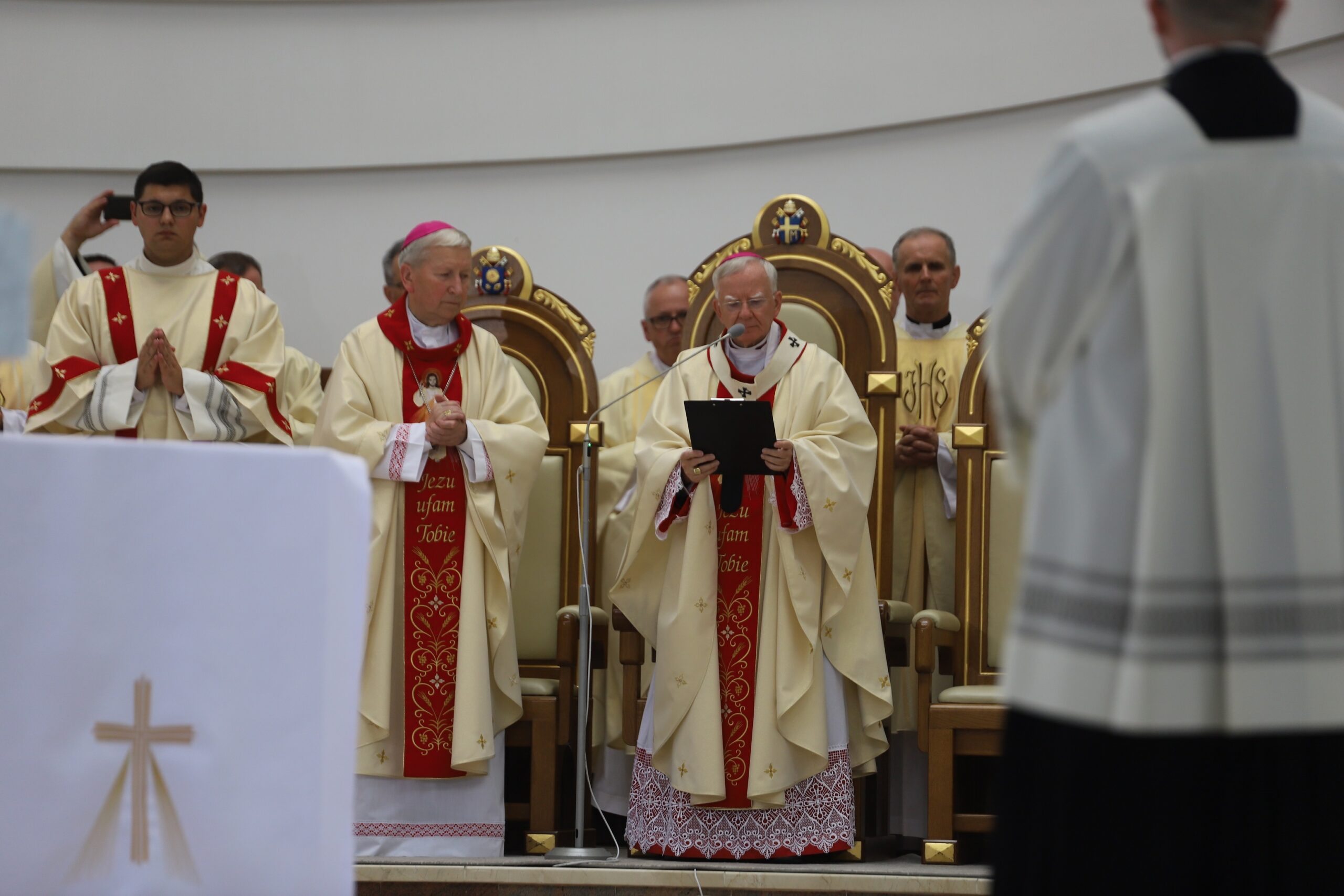 PhotoCredit: Archdiocese of Krakow
Twenty years ago, John Paul II made the Act of Entrustment of the World to the Divine Mercy in Krakow-Lagiewniki, the place of the revelations of the Merciful Jesus to Sister Faustina Kowalska. The event marked the last pilgrimage of the Polish Pope to Poland. The anniversary celebrations took place in the same venue, under the motto Mercy as hope for the world, on 13-17 August.
*
Vent'anni fa, il 17 agosto 2002 a Cracovia-Łagiewniki, nel luogo delle apparizioni di Gesù Misericordioso a Suor Faustina Kowalska, Giovanni Paolo II ha compiuto l'Atto di Affidamento del Mondo alla Divina Misericordia. È stato l'ultimo pellegrinaggio del Papa Polacco in Polonia. Dal 13 al 17 agosto hanno avuto luogo le principali celebrazioni dell'anniversario a memoria di quell'evento, dal titolo: "La misericordia è la speranza per il mondo".
The central ceremony took place on Sunday, August 14th. It was presided over by Archbishop Marek Jedraszewski, the Metropolitan of Kraków, in the presence of many participants from all over the world. The cult of the Divine Mercy was ignited by St. Faustina, who recorded the message of the Merciful Jesus in her "Diary" – one of the most purchased books in the world.
The Archbishop of Krakow referred to the current problems the world is facing, pointing to the rejection of Christ's message of truth and love as the cause of the rejection of human dignity. "Rejection of God always has a very definite price. The Lord God is constantly bending over such an unfortunate person, trying to save them," Archbishop Jedraszewski said, emphasizing the importance of God's mercy for the modern world.
The consecration of two new Bells of Hope, destined for Ukraine and Australia, followed the homily. The project Bells of Hope is to promote devotion to the Divine Mercy.
Fr. Leszek Gęsiak SJ, the spokesman of the Polish Bishops' Conference,  noted that the Act of Entrustment made by St John Paul II "is the culmination of his efforts to spread the cult of Divine Mercy throughout the world, and a confession that only God can save the world". Fr. Gęsiak recalled that one of the Polish Pope's encyclicals was dedicated precisely to the Divine Mercy ("Dives in misericordia"). He also established the Feast of the Divine Mercy and canonized Sister Faustina Kowalska in 2000.
Fr. Dr. Zbigniew Bielas, the Rector of the Divine Mercy Shrine in Krakow-Lagiewniki, in an interview with Catholic News Agency, noted: "The message of mercy is a message for our times. Our preparations, and what followed, numerous contacts with the whole world, showed us how this message is well-known, and how people need God's mercy".
Pope John Paul II consecrated the Divine Mercy Basilica on August 17th, 2002. The pope read out the act of entrustment after his homily. According to Fr. Bielas, witnesses of the event "realized the importance and significance of what was happening at that time".
Krakow-Lagiewniki is a place associated with the apparitions of the Merciful Jesus to a religious sister St Faustyna Kowalska – one of the most famous Polish saints. She died on  October 5th, 1938 in the reputation of sainthood. The famous painting of the Merciful Jesus "Jesus, I trust in you" was painted according to her revelations. Today Lagiewniki is the world center of the Divine Mercy cult.
Act of Entrustment of the World to the Divine Mercy read by John Paul II
God, merciful Father,
in your Son, Jesus Christ, you have revealed your love
and poured it out upon us in the Holy Spirit, the Comforter,
We entrust to you today the destiny of the world and of every man and woman.
Bend down to us sinners,
heal our weakness,
conquer all evil,
and grant that all the peoples of the earth
may experience your mercy.
In You, the Triune God,
may they ever find the source of hope.
Eternal Father,
by the Passion and Resurrection of your Son,
have mercy on us and upon the whole world!
Amen.
*
La celebrazione principale si è svolta domenica 14 agosto, presieduta dall'Arcivescovo Marek Jędraszewski, Metropolita di Cracovia. Erano presenti ospiti da tutto il mondo legati al culto della Divina Misericordia e a S. Suor Faustina, che aveva scritto il messaggio di Gesù Misericordioso nel "Diario" – uno dei libri più comprati al mondo.
L'Arcivescovo di Cracovia si è riferito ai problemi attuali con i quali il mondo si sta confrontando, indicando nel rifiuto del messaggio di verità e di amore di Cristo la causa del rifiuto della dignità umana. "Il rifiuto di Dio ha sempre un prezzo molto specifico. Il Signore si piega sempre su una persona così infelice, prova a salvarlo" – ha affermato l'Arcivescovo Jędraszewski sottolineando il significato della Divina Misericordia per il mondo contemporaneo.
Dopo l'omelia sono state benedette due nuove Campane della Speranza, destinate all'Ucraina e all'Australia. Il loro compito è di promuovere il culto della Divina Misericordia.
Padre Leszek Gęsiak SJ, Portavoce della Conferenza Episcopale Polacca ha dichiarato che l'Atto di affidamento compiuto da S. Giovanni Paolo II, "è il culmine dei suoi sforzi per diffondere il culto della Divina Misericordia in tutto il mondo e riconoscere che solo Dio può salvare il mondo". P. Gęsiak ha richiamato che una delle encicliche del papa polacco è stata dedicata proprio alla Divina Misericordia ("Dives in misericordia"), e nel 2000 ha stabilito la Festa della Divina Misericodia e ha canonizzato Sr. Faustina Kowalska.
Don Zbigniew Bielas, Rettore del Santuario della Divina Misericordia a Cracovia-Łagiewniki, in una conversazione con l'Agenzia di Informazione Cattolica ha affermato: "Il messaggio della misericordia è un messaggio per il nostro tempo. I nostri preparativi, ciò che ne è seguito, i numerosi contanti con il mondo intero, ci hanno mostrato quanto questo messaggio sia conosciuto, quanto le persone abbiano bisogno della Divina Misericordia" – ha aggiunto.
Sabato 17 agosto 2002 ha avuto luogo la consacrazione della basilica della Divina Misericordia, ad opera di Giovanni Paolo II. Al termine dell'omelia il Papa ha pronunciato l'atto di affidamento. Secondo don Bielas i testimoni di quell'evento "si sono resi conto del peso e dell'importanza di quello che stava accadendo".
Cracovia-Łagiewniki è il luogo legato alle apparizioni di Gesù Misericordioso, che si è manifestato a S. Suor Faustina Kowalska – una dei santi polacchi più conosciuti. È morta il 5 ottobre 1938 in odore di santità. È stata dipinta una famosa immagine di Gesù Misericordioso "Gesù confido in te", secondo le sue apparizioni. Oggi Łagiewniki è il centro mondiale del culto della Divina Misericordia.
Atto di affidamento del mondo alla Divina Misericordia proclamato da Giovanni Paolo II
Dio, Padre misericordioso,
che hai rivelato il Tuo amore nel Figlio tuo Gesù Cristo,
e l'hai riversato su di noi nello Spirito Santo, Consolatore,
Ti affidiamo oggi i destini del mondo e di ogni uomo.
ChinaTi su di noi peccatori,
risana la nostra debolezza,
sconfiggi ogni male,
fa' che tutti gli abitanti della terra
sperimentino la tua misericordia,
affinché in Te, Dio Uno e Trino,
trovino sempre la fonte della speranza.
Eterno Padre,
per la dolorosa Passione e la Risurrezione del tuo Figlio,
abbi misericordia di noi e del mondo intero!
Amen.